"Transformational Management & Leadership: Changing Perspectives, Attitudes, and Performance in You and Your Organization" – by Richard A. Hardy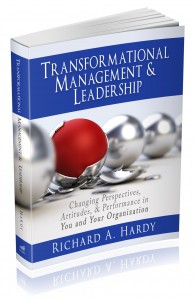 Are you a workplace leader looking to transform your workplace environment? Are you seeking to motivate your employees to meet and exceed your expectations?
This is not a book of academic theory based on what you should and should not do, written by people who have never done it. Richard A. Hardy has written this guide to leadership success as one who has actually achieved it in one of the most demanding fields of business: healthcare.
In Transformational Management & Leadership, Hardy shares his own amazing transformation as a leader, and he lays out practical steps to make that transformation happen in you and your organization.
---
Richard A. Hardy is a graduate of the University of Alabama's Capstone College of Nursing, where he obtained a Bachelor of Science Degree in Nursing.  He worked 27 years in the healthcare industry: 26 as a registered nurse at Greenville Memorial Hospital, which is part of the Greenville Health System located in Greenville, South Carolina.  With over 10,000 employees, it is the region's largest healthcare provider for the upstate of South Carolina and the bordering counties of Georgia and North Carolina.