18 Steps to Launching, Promoting, and Selling a Book Successfully and Economically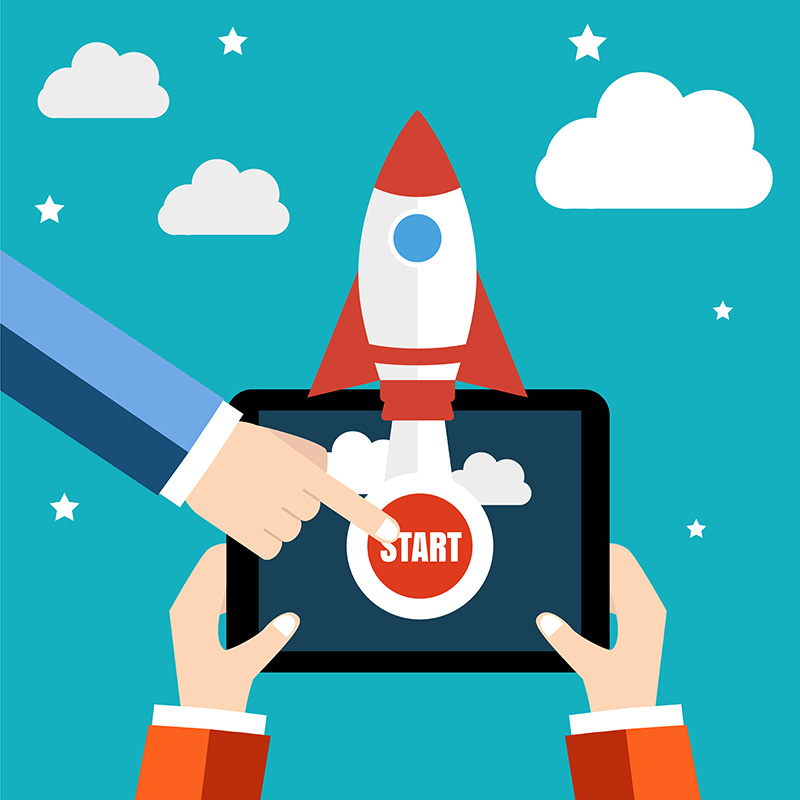 Having published 185+ books, we have found that the following steps are foundational to successfully launching a book and selling the book on an ongoing basis:
1. Write your book's teaser/description.
Purpose: This will be used on the back cover, Amazon, etc., and it will serve as your 30-second "elevator pitch" for your book.
Length: 150-200 words
Content: Your teaser/description should answer the following questions:

What specific problem does your book solve? For who? What's at stake if the problem doesn't get solved? (For fiction books … what's the hero's problem that needs to be solved?)

How does your book solve the problem? (For fiction books, who/what is going to help the hero solve the problem?)
2. Write your author bio.
Purpose: This will appear on the book's back cover as well as with the book's listing on Amazon.com, etc.
Length: Approximately 75 words
Content: Should demonstrate your credibility as an expert on your book's topic. What makes you qualified to write this book?
3. Craft a 10-30 minute presentation related to the content in your book.
This would be an expanded version of your 300-word teaser/description.
Use this as a framework for interviews, speaking engagements, blogposts, webinars, social media posts, etc. related to your book.
4. Optimize your author website for book sales.
What to include on your author website…

Explanation of the problem your target audience is facing and the solution you provide.
Your bio/pictures – Explain who you are and what makes you an expert on your topic
Option for people to get a free download in exchange for subscribing to your email list
Articles, videos, and audios of you sharing your message
Landing page for people to buy your book:

Include ecommerce checkout buttons
Display the book's description
List some endorsements for the book
Post video book trailer

Contact form
5. Display promotional graphics on your Amazon product listing page (i.e., "Amazon A+ Content")
You've probably noticed that many best-selling products being sold on Amazon include attractive, professional-looking promotional graphics on their product listing pages about halfway down the page. You'll find graphics like this on nearly every best-selling book/product on Amazon.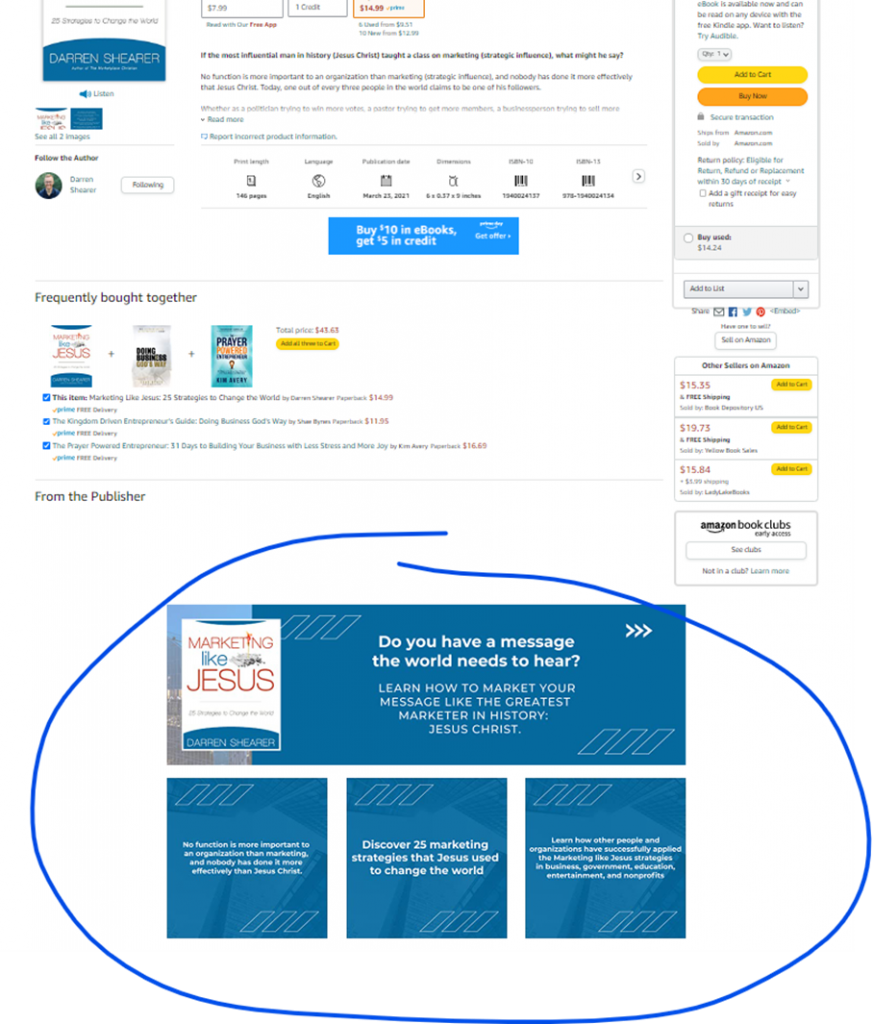 6. Create an Excel list of the names, e-mails, and phone numbers for all contacts who might be interested in promoting/endorsing your book, including the following:
Personal contacts
Podcast/radio hosts, TV producers, bloggers/journalists, book reviewers, and conference organizers in your niche

Find out which media outlets/contacts have featured other people in your niche.

Organizations that might be interested in purchasing your book for giveaways
7. Send a complimentary copy of your book to potential endorsers who are influencers in your niche. (a PDF version is fine)
Request endorsements from key influencers who have endorsed other books in your niche.
E-mail the influencer first to find out if he/she would like to review a copy of your book. Also, request an endorsement and suggest ways that you might be able to help him/her. For example…

Write a guest blogpost for the person's website.
Invite him/her to write a guest blog for your website.
Invite him/her to be a guest on your podcast.
Send a useful resource to him/her.

Request the endorsements within 30 days. (Be sure to send a reminder as the deadline is approaching.)
8. Write an article that communicates the essence of your book, and distribute the article as a guest blogpost to bloggers in your niche.
e.g. "Three Ways to…", "Four Reasons Why…"
Approximately 600-1200 words
Include your bio at the end, including a link to your website.
Check out this article: "6 Reasons to Blog Consistently"
9. Film a 1-3 minute teaser video of you pitching your book.
Should be based on your book's 300-word teaser/description.
Post it on your book's feature page on your website.
Post it on your social media channels.
10. Write and send a customized "pitch letter" to your media contacts.
Tell them why you would be the perfect guest/interviewee for their audiences.
Target = Podcast/radio hosts, TV producers, bloggers, and journalists
Length = Approximately 400 words
Include an updated press kit. (Post your press kit on your website and send the link to your media contacts.) Your press kit should include…

Updated bio
Headshots
Book image
Book description
Link to book trailer
Endorsements, reviews, and testimonies
Links to videos of you (especially videos of you being interviewed about your book and/or your topic)
Links to past radio/podcast interviews
Sample interview questions

Here is an Author Publicity Coaching webinar with Blythe Daniel (Former Publicity & Marketing Director for Thomas Nelson Publishers) and Stephanie Alton: CLICK to access (Note: Access to this webinar is available exclusively for High Bridge Books authors.)
11. Identify bonuses and/or discounts for early buyers and launch-week buyers.
Provide offer code for limited-time discounted paperback version (e.g. an additional 10% off for three days)
Offer bonuses for people who show a copy of their receipt for purchasing your book. Ask them to email it to you to receive a free resource (e.g. digital download, etc.).
12. Setup an e-mail sequence to launch your book.
Email templates/schedule:
Send emails via email marketing system like Mailchimp.com and/or send individual messages via Facebook Messenger and LinkedIn direct messages.
Check out this article: "5 Steps to Getting More Email Subscribers"
13. Setup your "Amazon Author Central" profile. (CLICK to access)
From your Amazon Author Central account, you will be able to track your sales and sales rank on Amazon and link Amazon shoppers to your bio, other books you've written, your blog, and your Twitter feed.
14. Ask every reader to write a customer review on Amazon.
"91% will give referral if asked." -Dale Carnegie
Ask anyone who has already said something nice about your book.
Hosts/producers considering inviting you as a guest on their shows will check to see how many reviews your book has. It's one of the most reliable sources for quantifiable social proof regarding a person's subject matter expertise.
Send the exact link to the "review" page for the paperback version.

Note: Make sure that they understand that they need to review the paperback version if they haven't purchased the ebook version. They will only be able to review the ebook if they purchased the ebook.

Get your endorsers to copy/paste their endorsements as reviews in Amazon.
Copy your positive reviews from Amazon to your book's webpage on your website.
15. Run pay-per-click campaigns on Amazon and Bookbub to promote your book. 
Start with at least $200 to give your ads a chance to perform.
Average cost per click = About $0.70
These ads generally break even (or better) for books that don't have vague book titles/subtitles.
Make a list of what keywords will help your ad get seen by the right people.
We have found that the cost per click (CPC) for Bookbub ads is better than for Amazon ads. But, unlike Bookbub, Amazon provides the data on how many sales actually resulted from those clicks.
As you run the ads, find out what search terms are resulting in clicks/sales … turn those into keywords/phrases to target.
16. Do public speaking as much as possible.
Teach classes at local churches, schools, etc.
Hold book signings at independent Christian bookstores.
Start a discussion group through your church.
Host a live webinar.
Reach out to podcast hosts who interview people about topics related to your book.
Start your own podcast.
Contact conference organizers to get invited to speak at their conferences.
Post videos of yourself on social media, talking about your topic.
17. Add a link to purchase your book in your email signature.
You can send people either to Amazon or to your own website.
This is incredibly easy to do. Depending on how many emails you send throughout the course of each day, this tactic will put your book in front of dozens of people each day who are already connected with you and likely to purchase your book.
18. Post on your social media channels at least once per day.
You can schedule your social media posts with BufferApp.com and MeetEdgar.com.
When you are launching your book, it's okay to promote your book on social media for a few weeks about once every three posts or so. After the launch window, it's better to resume posting great content that entices people to visit your website rather than overtly promoting your book on social media. When people come to your website, however, they should be able to easily find information about your book in case they want to buy it.