"Bad Girl Gone Good: 12 Ways to Renew Your Identity" (The Workbook) – by Shirley P. Auguste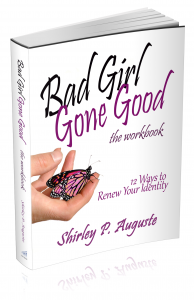 Have you ever felt as if your past was stifling your spiritual or emotional growth? Have you ever wondered if God was holding your past against you?
As you journey through Bad Girl Gone Good (The Workbook), you will experience greater freedom and spiritual growth as you confront the issues that have held you back from your destiny. It's time to allow God to renew your identity so that you can walk in your destiny.
---
Shirley P. Auguste, M.A.M., M.Ed., M.A., is a motivational speaker and life coach dedicated to helping women and young adults to recover from past hurts and move forward into their destiny. As an educator, mentor, and certified life coach, she has held conferences on dealing with and letting go of past hurts, moving forward, loving one's self, and finding inner peace. She believes in using faith, experiences, and theory to help overcome obstacles that prevent women and young adults from becoming happy and at peace.